Here you can see how I started, these are some of my earliest works. Most of this is not up for download, as they are early works that don't reflect my current standards. I keep the screenshots for nostalgic purposes :)
If you like to read more about how it all started and how I progressed, you can read my Custom Content Career.

A few pictures of my makeup. I did a subtle three-channel eyeshadow with colorable waterline, two pairs of lower lashes, a lipstick and freckles.
The eyebrows are also by me (right now I am creating lots and lots of eyebrows!) and so are the eyes, which are default replacement but with multicolor effect and have a custom eyeball texture. I also made a teeth overlay that comes with the eyes.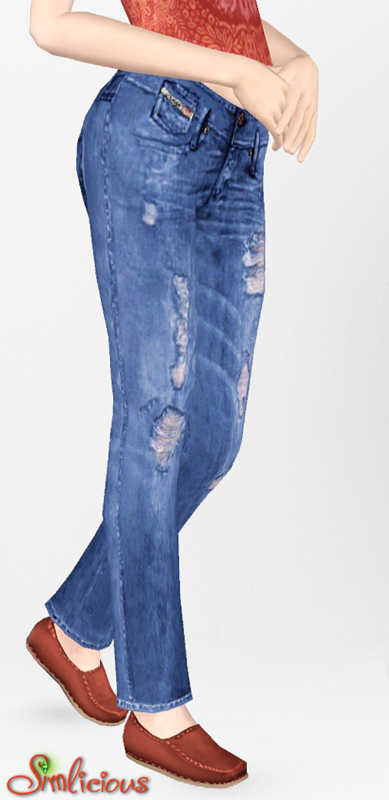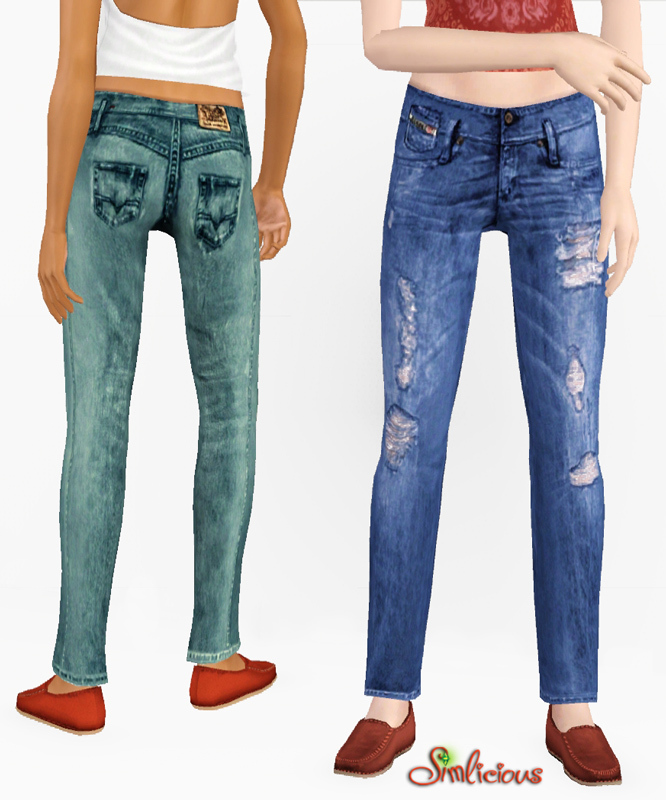 Here you can see two pieces of my work- a pair of jeans, actually these are Diesel Matic jeans wash 08B3, and a denim jacket. The jacket is also made  for teens and elders, the jeans is only wearable by adults and young adults. I actually made two versions, one on an EA mesh and one custom mesh. The pictures are from the custom mesh.
The denim jacket is now available for download here!
This is a new teen version of my first upload ever, the Antik Denim Inspired Jeans I uploaded at MTS (here). It is slightly different and on a different mesh, but I think it turned out great :)
I also updated the adult texture just a bit - the buttons are the same as in the teen version now.
In the last picture, you can see a comparison to the adult version I uploaded at ModTheSims.
This is one of my earlier works, an embellished cami dress. It is from child to elder, though the children have a different mesh. At the time, I didn't know how to mesh clothes yet, maybe I'll adjust the mesh for the kids some time.
This is a sequin bikini. I didn't like many sequin bikinis out there, because they had painted-on highlights on the texture. Makes it very unnatural to look at from certain angles. So I worked entirely with the specular to create a reflection on the sequins. It has two different versions, one plain version and one with stripes.
This is an entire outfit set. Originally, the idea was to create a vampire outfit, but I love versatility and so the dress can be heavily customized and thus worn for any occasion. The bat wings and the arm warmers are seperate accessories. The dresses actually come in two different versions, one with ruffled top to create a leathery feel and one with a smooth texture for finer fabrics. There are three different brooch designs. The leathery texture goes with the amulet brooch, the smooth texture has lace brooches with two different stone designs. And, if that wasn't enough, each dress comes in three skirt variations- one plain, one lace allover print and one lace border, each having differently coloured metal thread guide overlays. Yes, I just love variety!
These are yoga pants. For those, I meshed my first pregnant morph. Preggies need Yoga, too! The pants are not perfect, there is some clipping at the knees sometimes (you can see it in the picture with the sim sitting cross-legged on the floor).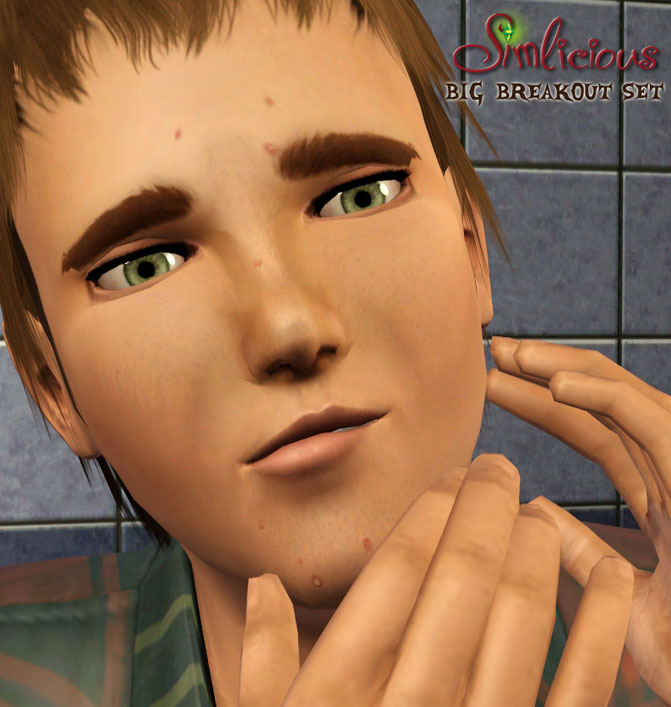 A pimple/breakout set. This was one of my earlier works. I use it for my teens :)